Autumn novelties from 46 Parallel – Grand Admiral Brut Nature Rose and Saperavi!
18th November 2021
This autumn 46 Parallel Wine Group presents new wine masterpieces. The company completed the collection of Grand Admiral premium wines with a unique sparkling wine Grand Admiral Brut Nature Rose, which is produced by the classic champagne technology with aging in a bottle for at least 21 months and aged red wine Grand Admiral Saperavi, which has a bottle capacity of 0.75 liters and of 0.375 liters.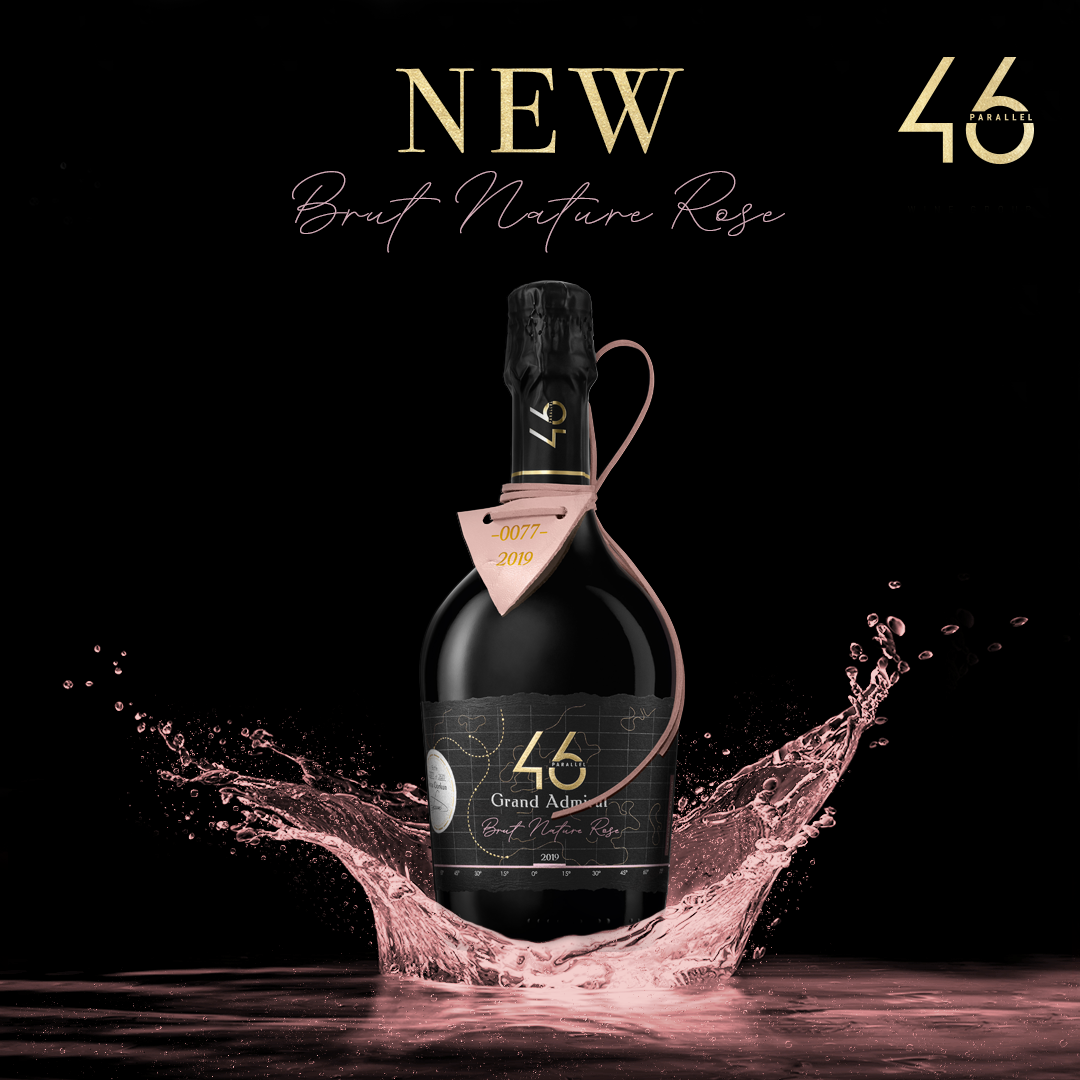 The delicate, luxuriously decorated pink sparkling Grand Admiral Brut Nature Rose embodies a real wine masterpiece, and the contents of each bottle are admirable!   harvest. The premium author's sparkling wine is represented by a limited edition of 1380 bottles, is characterized by unsurpassed aroma and luxury of taste, has a gentle special shade peculiar to wines created from Pinot grapes. Given the aging time of premium sparkling wine on the sediment – at least 21 months – the real art of winemakers 46 Parallel Wine Group was to achieve maximum complexity of wine and delicate rich taste. The bouquet needs special attention: bright, elegant with shades of cherry, raspberry, white cherry, grapefruit, which are revealed in tones of brioche, walnut. The taste of the wine is balanced, with refreshing acidity, harmoniously combined fruit tones, gentle mousse and elegant notes of aging. Due to the right technological combination, we managed to make Grand Admiral Brut Nature Rose as harmonious and elegant as possible with a long aftertaste.
Unlike the delicate pink Brut Nature, the red aged wine Grand Admiral Saperavi – has absorbed all the characteristics inherent in red wines that are aged in oak. It is harmonious, bright in bouquet and aroma. Due to the fact that it was kept for 24 months in oak barrels of the French brand Seguin Moreau. Grand Admiral Saperavi is the wine from the Saperavi variety of the 2018 harvest, presented with a circulation of 963 bottles.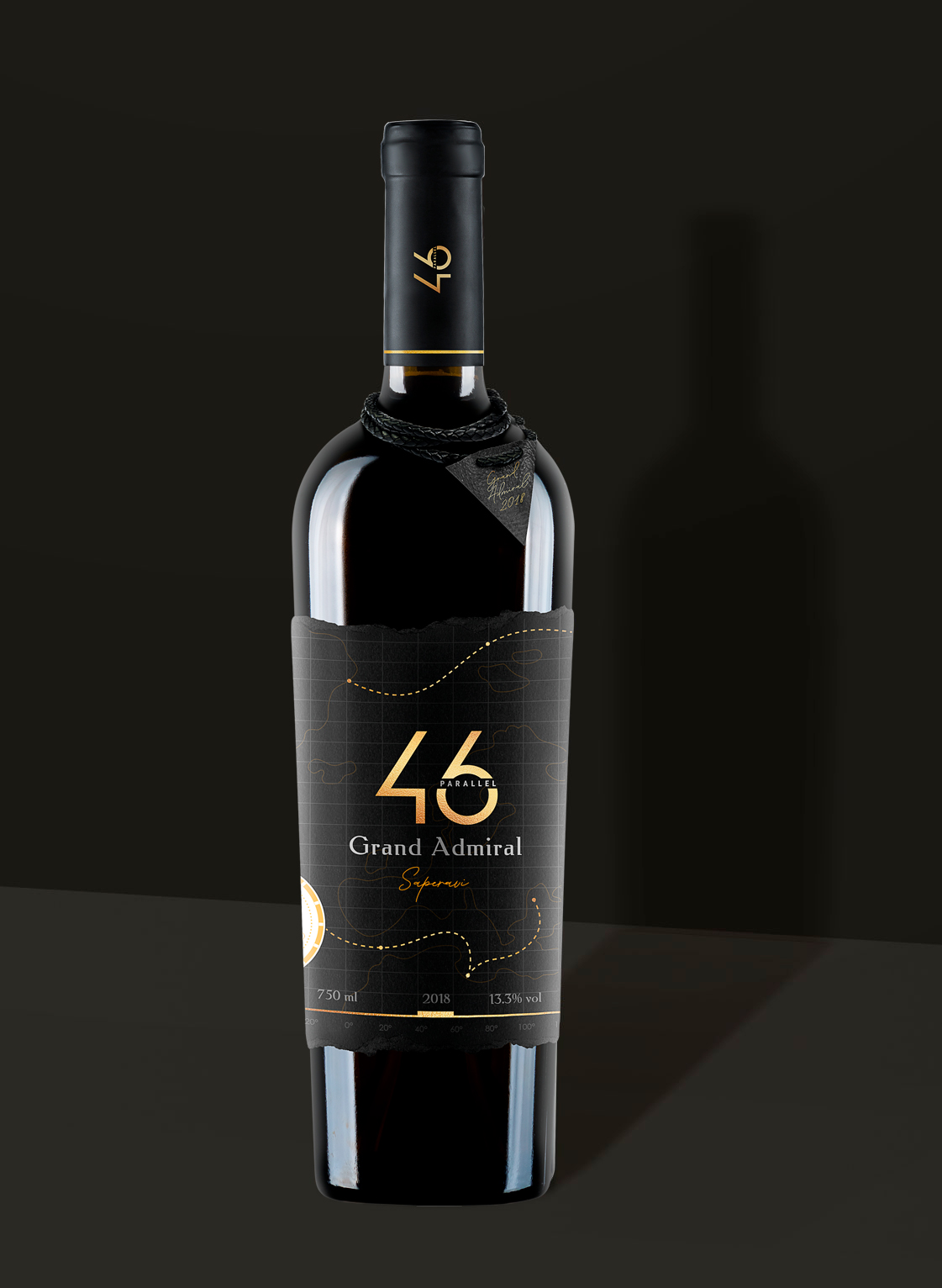 This wine is characterized by a bright shade of dark pomegranate, rich taste and a unique varietal aroma. As you know, "Saperavi" means "Color". In this case, the color is rich, which is specific to the group of these wines, has a complex tannin structure, which gives them a rich astringent taste. Bouquet: complex harmonious with tones of blackberry, prune, chocolate, tobacco and delicate tones of aging. The aroma is full of fruit and berry plume, which contains black cherries, plums and red berries, with distant notes of spicy spices. The taste of the wine is dense, with excellent balance and well-integrated oak on the aftertaste. Everyone knows that Saperavi has great potential for long-term storage, Grand Admiral Saperavi has the potential to mature for 5-7 years, so it is an excellent wine to put in the collection, because over the years it will only get better. This wine is recommended to be served with meat dishes, pasta or some vegetable garnish. In addition to meat and vegetable dishes, wine goes perfectly with cheese.
CEO and founder of 46 Parallel Wine Group Anna Gorkun: – It is a great pleasure to present two new products in the premium segment at once! They are special, because Saperavi is a masterpiece that I am convinced will become a favorite of many wine gourmets. As for the Grand Admiral Brut Nature Rose, I confess that rose wines for me are an unsurpassed extract of pleasure and unique character. And if you take into account the fact that this wine is made from Pinot Noir using the classic production technology, it is a real piece of art. A total of 1310 bottles created by the classic method of champagne with aging for at least 21 months, will not leave indifferent any connoisseur of quality wines! We are sincerely happy that we managed to create masterpieces that have every chance to be on a par with the world's best wine samples! In addition, they are perfectly in tune with our credo – Proudly Ukranian ", and therefore we believe that both wines will find their fans not only in Ukraine, but also around the world. So be it!